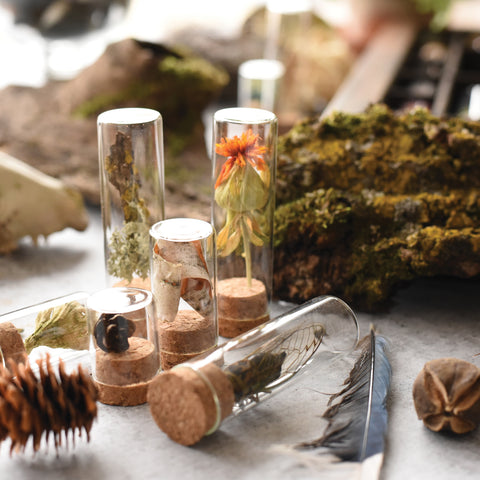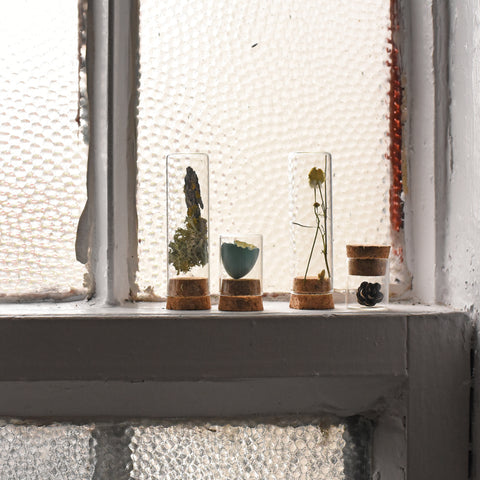 Specimen Collecting Kit
June & December on their Specimen Collecting Kit: "We designed and developed our specimen collecting kit to share our love of collecting, observing, and preserving memories from our outdoor adventures. Collect and preserve specimens found in the field with the pocket-sized tin, then use the contents to prepare, encapsulate, and display your finds. Each kit is meticulously assembled by hand in our studio."
 - 5.5" x 3.75" x 1" pocket-sized tin
- Includes collection tin, ten assorted glass display bottles + corks, stainless tweezers, 6 stainless specimen pins and instruction booklet
- Assembled by hand in Michigan 
COLLECT RESPONSIBLY
Respect the environment and its offerings, leave no trace behind. Never trespass, know where you can and can't take from nature. Know before you go and follow all local, state, and federal laws. Minimize what you collect as not to disturb a microhabitat. Never collect live insects.
About June & December
Katie and Nick Forte founded June & December in 2014 with an adventurous spirit and the idea that the most memorable gifts have a meaningful story to tell. Named after the months their children were born, Katie and Nick believe we are all storytellers at heart, and strive to have their products do the talking. Let their products remind you of a recent adventure, a memorable dinner, or a fond childhood memory as we celebrate the many ways nature brings us together.